DOOR FRAME METAL DETECTOR 18 ZONE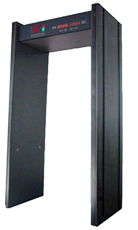 Six multiple separate overlapping metal detectors in one frame. This coil structure enhances the metal detection process compared to conventional metal detectors. Metal location is reliably displayed at each zone. If metal are present in more than one zone, all zones with metals are displayed on the Zone Representation provided on the side panel & the zone with the peak metal is displayed on the 8-digit LED display & Bargraph.
Sensitivity of each zone can be set separately to get uniform sensitivity at each zone. Microprocessor technology ensure fast and reliable data processing and operation, Metal Detection, Sensitivity setting, Threshold setting, Zone discrimination. UPMD-006 detects both ferrous & nonferrous metal concealed on a person.
Order Now
Uses Latest Countinous Wave Technology.
Door frame metal detector is microprocessor based & PC compatible.
Six Zone detection.
AUTO Calibration.
Keypad provided for all program settings.
Infra Red occupancy sensors for traffic Counter.
Detector is continuously active . No metal can be tossed without being detected.
Very easy to operate.
Self Test program, system FAULT indicator provided.
Display of time, counter, program setting, sensitivity during setting.
Multi mode counter i.e. IN,OUT, total IN & OUT.
Digitally controlled sensitivity, threshold, & volume.
Independent sensitivity setting of each zone.
Battery backup for memory protection.
Zone Display On Side Panel of the frame along the length.
Sensitivity:
Sensitivity Settable in steps from 0-99 Variable Detection Threshold Settings Detects objects as small as 25 mm Ferrous or Non-Ferrous Metal Cube.
Technical Specification:
Floor space required : 0.661 SQ. m.
Passage Clearance : 750 x 500 x 2000mm
Overall arch assembly : 870 x 760 x 2175mm
Weight: 70Kg approx.
Power : 230V AC ± 15%, 50Hz, 50VA