Model:NR-UTP7208E-POE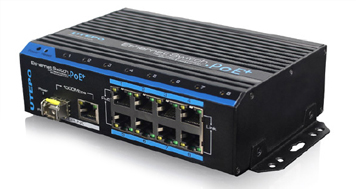 This switch is a kind of unmanaged switch with PoE function. It has one uplink Ethernet port and one 1000Mbps optical port; 8X100Mbps PoE Ethernet ports support af/at standard. This product is designed for HD IP Camera, enable these devices to have power supply without connecting to the power socket. It makes the connection of those devices that far away from the power more flexible and simplifies wiring.This product integrates with optical port to realize perfect integration between fiber optical transceiver and Ethernet switch, thus solving the problem of long distance transmission. It can be used in security surveillance, network engineering and so on.
Order Now
Download
Features
Provide 8x10/100Mbps PoE Ethernet ports, support power supply for the network device that meets IEEE802.3 af/at, Donít worry about the damage of devices which is not PoE.
PoE Ethernet ports support IEEE802.3 af/at, it can provide 30W consumption and power supply for the big consumption infrared camera.
Provide 2 uplink ports, 1000Mbps optical port and Ethernet port; Uplink Ethernet port can connect with NVR and other high bandwidth device conveniently; Uplink optical port reserves SFP port for users to select different performance SFP optical fiber module, conveniently solving the problem of long distance transmission;
The switch and every PoE Ethernet ports have reset button for users to solve IP camera crash and others problem, no need to pullout and plug network cables, which is convenient for system maintenance; The reset button is on the bevel, convenient for users to operate from multi-angle;
The transmission distance of uplink Ethernet port can up to 150m, which breaks through the limit of 100m network cable;
Up to 1M Package data cache, making high-capacity data forwarding more smooth;
Up to 8K for the MAC address, easy for system upgrade;
Support IEEE802.3X full duplex flow control; support (Auto MDI/MDIX) function;
Redundance power design, power heat backup or raise power consumption;
Industrial standard product, fold metal outer shell heat dissipation without fan designed;
Fast installation, easy operation, convenient for wall, din rail and desktop installation.
Item

Description

Power
Power Supply
Power Adapter
Voltage Range
DC48V-57V
Consumption
<35W (PoE power supply$30W)
Ethernet Port
Ethernet Port
LAN port:lO/lOOMbps
Transmission Distance
LAN port: 0-lOOm
PoE
PoE Protocol
IEEE802.3af/at
PoE Power Supply
End Span
PoE Power Consumption
$30W
Fiber Port
Fiber Port
SFP module,LC port
Bandwidth
155Mbps
Transmission Distance
Depend on SFP module performance
Network Standard
Compatible with
IEEE802.3 lOBASE-T,IEEE802.3u lOOBASE-TX/FX
LED Status Indicator
Power
1 Green light
Ethernet
Green light on the RJ 45 Socket
Fiber
Link,SO,FED (3 green lights)
Protection
ESD
Contact discharge 6KV;air discharge 8KV
Lightning Protection
Power:2KV / Signal 1KV / Per:IEC61000-4-5
Environmental
Working Temperature
ooc ssoc
Storage Temperature
40 - 6 0
Humidity (non-condensing)
9%
Mechanical
Dimension (LxWxH)
103mmx82mmx2Smm
Color
Black
Weight
172G
Stability
MTBF
>30000h